We LOVE brunch! The best part about brunch is that there are many great reasons to include brunch at your wedding celebration, as well as all of the brunch wedding menu ideas.
Delicious Brunch Foods
What could be better than starting your day with a fun Bloody Mary? That spicy, seasoned rim on the glass or those yummy garnishes! It is practically a meal in a glass.
Or how about a Florida Fresh Mimosa with local oranges, fresh squeezed Florida orange juice and the bubbles of Champagne or Prosecco?
If you are having an evening wedding, brunch treats like quiche, freshly baked Danish, muffins or biscuits with local fresh fruit are the perfect way to start your wedding day; and your wedding party will thank you for it.
Whether you are dreaming about our creamy shrimp and grits or a hand-rolled breakfast burrito with spicy salsa, we've got you covered!
Kid-Friendly Menu Option
With so many weddings that include the entire family, brunch is such a kid-friendly menu option! We can't imagine anyone, kid or adult, who wouldn't enjoy these yummy mini pancake stacks or chicken and waffles.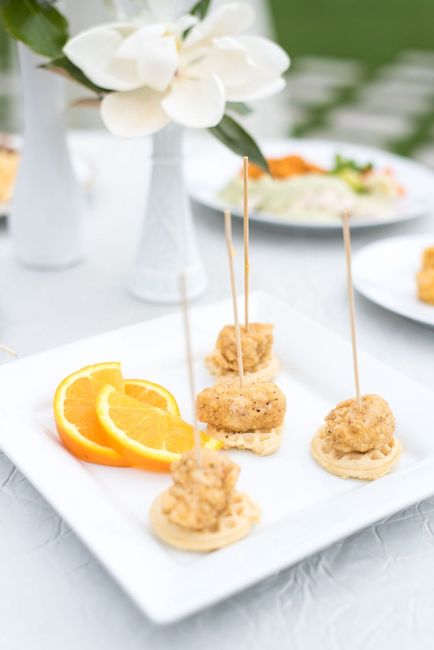 Ways to Incorporate Brunch Foods in Your Wedding
Since we are located by Port Canaveral, we often work with couples who are heading out on a honeymoon cruise. A late morning wedding ceremony and brunch reception is the perfect send-off, before your travels! It's also an excellent way for your family and friends to head off and enjoy the beach or other central Florida attractions for the rest of the day.
Another route that we couple's taking is having brunch-style late night snacks. After a long night of partying, what better way to extend the celebrating than to see all of your family and friends one more time before they head off after the wedding.
---
Looking to have a Brunch wedding?
Visit our catering services page to see how we can help!