When it comes to Florida in the fall, we may not have the changing leaves but it does get a little cooler. The most important thing about Florida is the fall is we get a second growing season of fresh produce. This means delicious fresh local fruits and vegetables for our culinary team to get creative with delicious fall menu ideas.
Here are some of the Two Chicks and A Pot catering teams' favorite flavors of fall that are available for your upcoming wedding or catered event.
Appetizers
Appetizer short plates of some of our favorite comfort foods such as mini Chicken Pot Pies, mini Shrimp and Grits or Bourbon Bacon Apple Tarts pair well with creamy vegetarian Butternut Squash Soup Shooters or our craveable White Cheddar and Jalapeno Mac and Cheese Bites are a great way to start your reception.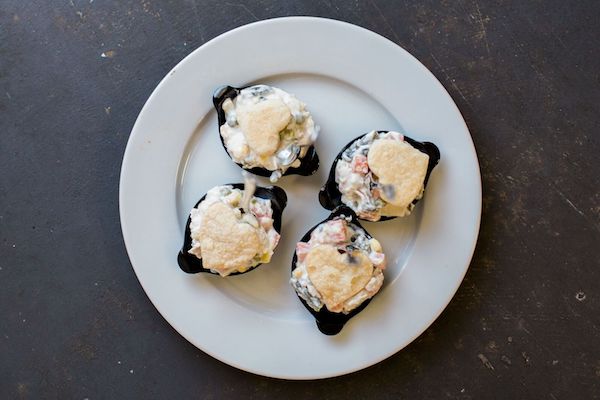 Main Dishes
Several of our most requested Two Chicks and A Pot signature items like Roast Pork Loin with Balsamic Glaze and Chicken in a Bacon Rosemary Cream Sauce are classic Fall dishes.
Seasonal side dishes like our Roasted Root Vegetables, Citrus Mashed Sweet Potatoes and Brussels Sprouts with Honey and Pecans pair well with our luscious autumn entrees.
What's a Party Without a Signature Cocktail?
How about Red Apple Sangria made with any rich, full-bodied red wine, brandy, apple cider, cinnamon and a slice of orange for a little citrus freshness?
Vegan and Vegetarian Options
We have not forgotten about our vegan and vegetarian friends. We offer many flavorful dishes, like our vegan Santa Fe Stuffed Peppers and Pumpkin Risotto with Jalapeno and Cranberry, that are sure to please.
Be sure you ask our Two Chicks and A Pot Catering Event Managers about a full list of our culinary team's dishes that incorporate the flavors of fall.
We know you'll fall in love with them too!
---
Looking for More Catering Menu Options?
Visit our Catering Menus Page

---
See something you like? Contact us to set up a consultation and schedule your private tasting at our catering offices!
Photos Harmony Lynn Photography