We create custom menus for every client. Our process always starts with a complimentary consultation to learn about your tastes and ideas. We'll then present you with a tasting menu that you and up to 3 guests can sample at a private tasting. Our ultimate goal is to create something authentic just for you!
Although every menu is customized, we do have some of our client favorites and themed menus to help you with ideas.
Client Favorites
Spring/Summer Favorites
Chicken Picatta
Chicken the Two Chicks Way (mango chutney and brie)
Pulled Pork
Top Round Carving Station
Brisket
Grilled Vegetables
Cole Slaw
Broccoli with lemon butter
Rice Pilaf
Black Beans and Rice with chimichurri
Macaroni and Cheese
Fall/Winter Favorites
Top Round Carving Station
Chicken, Bacon and Rosemary in a Cream Sauce
Parmesan Crusted Chicken
Chicken Marsala
Tender Braised Roast Beef
Pork Loin over apples with balsamic glaze
Garlic Mashed Potatoes
Loaded Mashed Potatoes
Butternut Squash Risotto
Roasted Root Vegetables
Brussels Sprouts with pecans and honey
---
Menu Ideas
No matter the style of event or type of cuisine you'd like to have, we are here to help make your event deliciously amazing with a custom menu. Below are some popular menu ideas to help with brainstorming for your menu.
Florida Seafood Menus
Vegan and Vegetarian Menus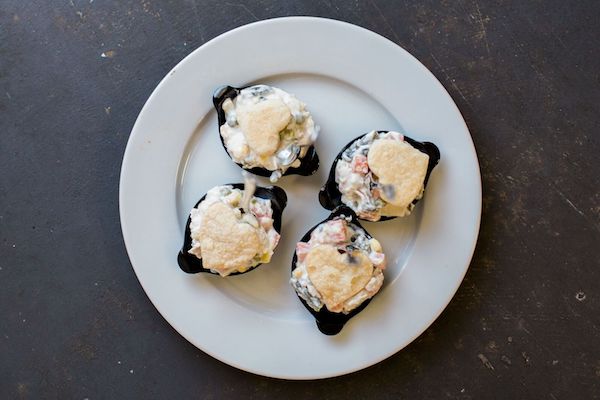 Small Bites Menus
Kid-Friendly Menus
---
Bartending Services
Along with delicious fresh, local, and organic food options, we also provide bartending services for events. Whether you are looking for a full-service bar at your event or help with deciding what signature cocktail to treat your guests to, we have you covered. Learn more below.
Bartending Services
Signature Cocktail Ideas
---
Ready to Schedule Create Your Custom Menu for Your Wedding or Event?
Visit our Contact Page!