Nothing says fall like yummy soups, especially our Corn Chowder! Even here in Florida, where fall is only a tiny bit cooler, the fabulous local produce and autumn flavors put people in the mood for soup.
Whether we are looking at rich soups with great texture, locally harvested organic produce or something smooth and creamy, we have incredible options for any event.
We are finding soups to be really popular as 'soup shooters', a passed hors d'oeuvres for cocktail style receptions.
On cooler evenings, the soup shooters make the perfect addition to a cocktail hour. They are an easy to manage cocktail food loaded with flavor and can be eaten in just a few sips.
Another very popular item is our Tomato Bisque with a mini grilled cheese sandwich. Nearly everyone has an awesome childhood memory of rich, creamy tomato soup with a crisp buttery bite of a grilled cheese sandwich.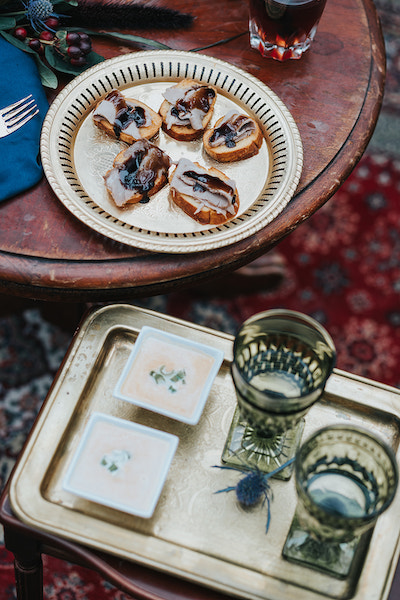 Thick, rich and creamy soups, the perfect comfort foods for any event. Our signature fall favorite soups include Loaded Baked Potato, Roasted Pumpkin, or Corn Chowder.
Looking to make a little Corn Chowder of your own? No matter the time of year, we know you will love this Corn Chowder recipe as much as we do!
Two Chicks and a Pot Corn Chowder
Ingredients
1 large onion diced
1 lb. red potatoes cut into small cubes
4 c. low-sodium chicken stock
2 tbsp. all-purpose flour
1/2 c. milk
3 c. corn
1/2 c. heavy cream
kosher salt
Butter
1 tbsp. Chopped chives, for garnish
Directions
In a large pot over medium heat with a tablespoon of butter, cook the onions until translucent, about 4 minutes. Add potatoes and chicken stock and bring to a boil. Reduce heat, cover, and simmer for about 10 minutes, or until the potatoes are tender.
When potatoes are tender, whisk flour into milk and stir into pot. Add corn, cream, and bring soup back to a boil, cooking until heated thru, 2 to 3 minutes more.
Season with salt. Garnish with chives.
Serve and enjoy
To see more of our favorite recipes, visit our recipes page!