We work with some of the most amazing Central Florida wedding professionals for real weddings. However, we also love working with these incredibly talented wedding pros on styled wedding shoots.
These shoots are inspirational designs meant to stretch creativity and explore some out of the box design concepts. So, when we were asked to be part of this Binding Ceremony Wiccan wedding styled shoot, we jumped at the opportunity.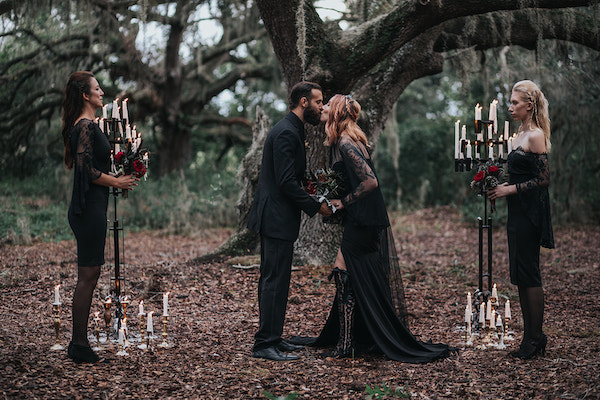 From ceremony to reception, this design was inspired by the modern witch with a twist of the 19th century. This Wiccan Wedding showcased spectacular details, and our fall-inspired culinary creations were a perfect fit.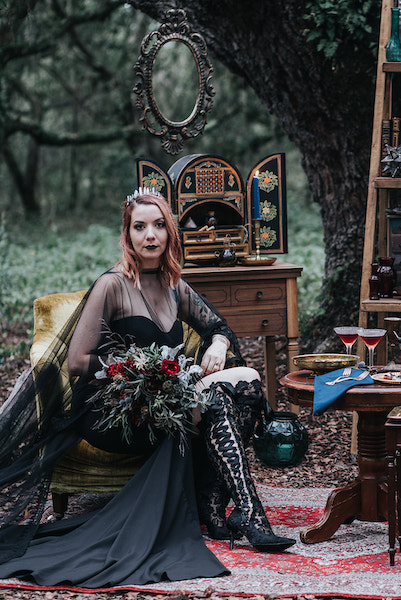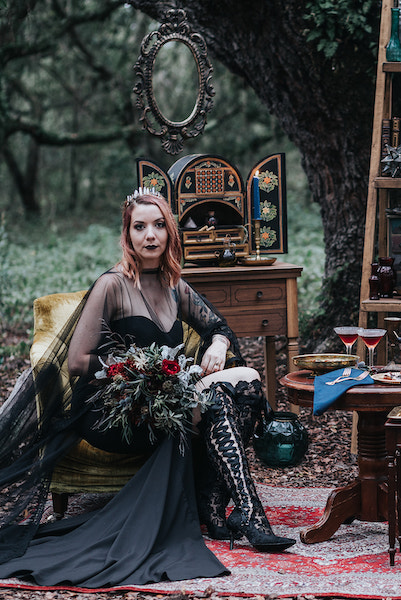 The Menu
Our Events Specialists and Culinary Team designed a mesmerizing menu of harvest small bites, along with delicious and unique signature cocktails.
The menu started with our scrumptious Garlic Pesto Pumpkin Soup, a creamy creation blending Roasted Pumpkin, Fresh Sage and drizzled with a Roasted Garlic Pesto.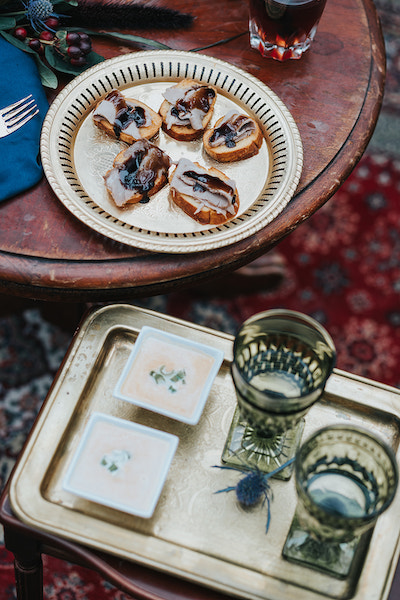 Our second featured item was Bacon Wrapped Brussels Sprouts; Organic Brussels Sprouts with Roasted Garlic wrapped in Uncured Bacon. Even people who do not care for Brussels Sprouts will love this yummy fall bite.
The third delicious bite was our Two Chicks and A Pot Beef Crostini. A crisply toasted crostini topped with Horseradish Aioli and Wagyu Beef. This rich, tender beef was a beautiful blending of crisp toasted bread and spicy horseradish.
Any of these fall-inspired foods would be the perfect addition to an upcoming fall or winter catered event.
Fun, creative signature cocktails added a bubbling, steaming touch to the culinary creations.
We loved the unique detail of this entire shoot; every detail was on point.
For more details from this Binding Ceremony Wiccan Wedding Styled Shoot check out the feature on Wedding Chicks
Kudos to all of the vendors who brought this Hand Binding Ceremony together.
Looking for more inspiration? Visit our styled shoots page.
Participating Vendors:
Catering: Two Chicks and A Pot
Photography: Angie & Marko Photography
Shoes: House of Elliot
Hair: Misti Blu Day
Model: Chase Shellee
Ring Box and Crown: Wildling Apothecary
Incense and Herbs: Left Over Hippies
Candles: Mooncrafted Essentials
Assistant: Eccentric Captures
Florist: Fern and Curl Designs
Assistant: Damon McGuire Imaging
Invitations: Hands of Hollis
Calligraphy: Kelsey Happy Clark
Cakes and Sweets: Sweet Miss V's
Signage: Chic Signs
Model: Lauren Allen
Alternative Engagement Rings: RAW by Olivia Mar
Makeup Artist: Beauty by Briana
Tuxedos: Daytona Tuxedos
Rentals: Ocean Hawks Rentals
Day of Coordinator: Mochar Events